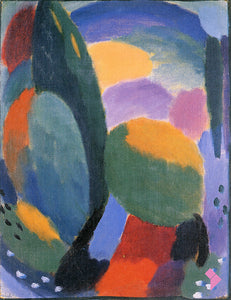 Print inclusive wooden panel mounting, ready to hang
Variation-Summer Evening
Regular price
£30.00
£0.00
Unit price
per
---
Share this Product
Giclée print on 'xuan' rice paper, mounted and ready to hang.
Alexej von Jawlensky
Variation-Summer Evening
1916
This work by von Jawlenksy is bright and full of movement. The artist has created this work in a typical Expressionist/Blaue Reiter style; the colours are exaggerated and drawn from the artists feelings rather than reality. While some of the "trees" are in greens and yellows, shadows and background shapes are in intense reds, purples, and pinks. The oval formed in the piece by the different vivid shapes gives a swirling sensation to the painting, engaging the viewer's sense of movement as well as vision.
---