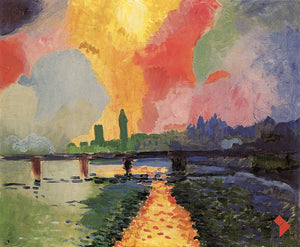 Print inclusive wooden panel mounting, ready to hang
The London Paintings: Hungerford Bridge at Charing Cross
Regular price
£30.00
£0.00
Unit price
per
---
Share this Product
Giclée print on 'xuan' rice paper, mounted and ready to hang.
Andre Derain,
The London Paintings: Hungerford Bridge at Charing Cross,
1906-7
This scene of London by Derain bursts with colour. The sky is filled with bright yellows, reds, greens and blues and is reflected with the same strength of colour in the Thames below. In his multicoloured water, the artist has used short, dabbed brush marks to give a suggestion of gentle movement in the river. The colour palette he has used gives the work a sense of warmth. The cloud-like formations the artist uses in the sky show the famously smoky London air. In the background we can see the shape of the Houses of Parliament and of Big Ben (which opened just 8 years before this painting was made). Derain has painted this scene from an interesting perspective: are we watching the sunset from a nearby bridge, or perhaps sailing through on a boat?
---